Your July 2019 South Tampa Real Estate Market Update
Each month we bring you our South Tampa Real Estate Market Update by providing you with the key data points that drive the real estate market. Here are the numbers for June 2019.


In today's South Tampa market update, we'll discuss the trends we've seen as of July this year.
In the general market, the number of homes sold in July was 143, which is a 14% drop over the same month last year. The median home price of $575,000 was up by 8% over last year's median price—$532,450. Additionally, inventory was up by 14% compared to last year, leaving us with 165 new homes on the market, or 3.12 months of supply.
Our days on market, or the number of days it takes on average to sell a home, was slightly lower than last year; we went from 60 days on market to 52—a 13% drop.


Mortgage rates also dropped in July, leaving us with a current rate of about 3.75%. In some areas, people are getting even better rates than that!
All in all, now is a great time to buy a home.
We hope this update has been helpful. If you would like to learn more, please visit SouthTampaRealEstateReport.com to request a fully detailed report of the latest market trends.
If you have any other questions or would like more information, feel free to give us a call or send us an email. We look forward to hearing from you soon.
Want a copy of the report we mentioned?
We will send you a copy of our quarterly magazine which provides hyper-local data for all of South Tampa that you can't find anywhere else.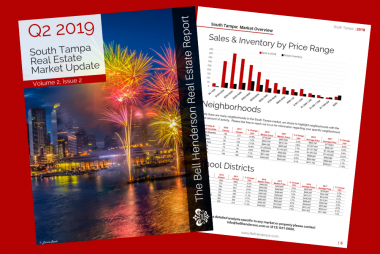 This magazine provides detailed market data on zip codes, neighborhoods and school districts along with other geographical and economical data like Waterfront, Luxury, & New Construction in South Tampa.
Find out how we are different: