What the Latest Numbers Mean for Buyers & Sellers in South Tampa
Each month we bring you our South Tampa Real Estate Market Update by providing you with the key data points that drive the real estate market. Here are the numbers for May 2019.
Inventory is down and sales are up in our South Tampa market.
Here's what that means for buyers and sellers.

Want to Buy a Home? Search All Homes
Want to Sell a Home? Get a Home Value Report
What do the May 2019 numbers say about our South Tampa real estate market?
First of all, there were 150 home sales, which is roughly the same as last year but a 20% increase compared to the 126 that sold last April. The median sales price was $495,000, which is a 3.8% decrease compared to last April.
There were 169 new listings that came on the market, which is an 8% decrease compared to the 184 new listings April had, but a whopping 18% decrease compared to May 2018.
Since we have slightly less than four months of inventory, we're technically still in a seller's market. However, the higher you go up in price range, the more conditions favor buyers. The average days on market, meanwhile, was 60 days, which is very similar to the 58-day average we saw in April.
In general, inventory is down and we have more buyers than there are homes available, which is great news for sellers. Homes are moving quickly. If you price yours correctly, it will sell quickly as well.
Though these numbers don't favor buyers, the good news for them is that mortgage rates are still low. The average 30-year fixed rate during May was 3.75%—in November 2018, it was 4.9%. If you look at the average 15-year fixed rate, the number is 3.375%. This essentially means buyers have more buying power.
If you'd like to know more about what's happening in our South Tampa market or you have any other real estate questions, don't hesitate to reach out to us. We'd love to help you.
Want a copy of our detailed South Tampa market report?
We will send you a copy of our quarterly magazine which provides hyper-local data for all of South Tampa that you can't find anywhere else.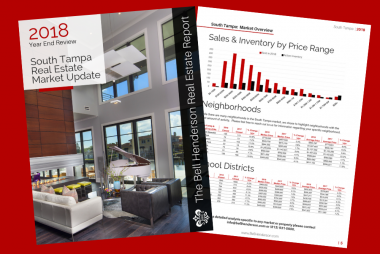 This magazine provides detailed market data on zip codes, neighborhoods and school districts along with other geographical and economical data like Waterfront, Luxury, & New Construction in South Tampa.
Find out how we are different: