What Does Our Market Look Like As May Begins?
Each month we bring you our South Tampa Real Estate Market Update by providing you with the key data points that drive the real estate market. Here are the numbers for last week.
35
NEW HOMES UNDER CONTRACT
3.25%
30-YEAR
INTEREST RATE
In today's quick market update, we'll take a look at what the market looked like two weeks ago and compare it to the market as we saw it just one week ago. We saw 53% more listings come on the market last week and 25% more homes go under contract than the previous week. The number of homes sold dropped by 45%, which is due to the social and economic impacts of the coronavirus. To demonstrate how much the pandemic has changed the market, we'll also look at how the market looked at the same time last year.
To request your copy of the South Tampa real estate market report, visit SouthTampaRealEstateReport.com and we'd be happy to provide you with one. If you have any questions about our market or concerning real estate, in general, please feel free to contact us by phone or email. We would love to help you!
Want a copy of the report we mentioned?
We will send you a copy of our quarterly magazine which provides hyper-local data for all of South Tampa that you can't find anywhere else.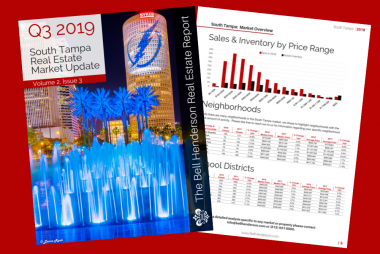 This magazine provides detailed market data on zip codes, neighborhoods and school districts along with other geographical and economical data like Waterfront, Luxury, & New Construction in South Tampa.
Find out how we are different: