Your September 2019 South Tampa Real Estate Market Update
Here's your monthly market update for September of 2019.


Now that we're officially in the fourth quarter of the year, let's take some time to reflect on the September market by looking at six stats that drove our activity.
First, 107 homes sold in September 2019. That's a 13% drop over the same month last year, and a 24% drop from just one month before.
The median price in September was $497,500, which is an 8% drop from August and a 5% increase over September 2018—that's a good sign. This is a recurring trend we've seen while going over the last nine months: Prices have gone up, but total sales have gone down. However, September is traditionally one of the slowest months in terms of sales in all markets.
Inventory remained steady between August and September this year, going from 3.12 months of supply to 3.3 months of supply.


We had 152 new listings this September, which is roughly even with the previous month.
The average number of days it takes a home to sell dropped from 64 days in August to 43 days in September. That's a huge decrease!
So overall, we had the same number of houses on the market as in August, and houses that ended up selling sold for more money and faster than the month before. This shows that sellers need to pay attention to a critical message: If you price your home correctly in the beginning, you'll be able to sell your home fast and for more money. The longer you wait, the less you'll get.
The best news of all is that we're seeing mortgage interest rates as low as 3.75% and 3.85%. In the jumbo and 15-year mortgage markets, rates are even lower, with some hovering around 3.5% and others even dipping below 3%. It's unreal.
We're currently in the process of wrapping up our third-quarter market report to make sure everything is correct. If you would like us to send you a free copy of this report to you, visit www.SouthTampaRealEstateReport.com and fill out the request form.
If you have any other questions in the meantime, don't hesitate to reach out to us. We'd love to hear from you.
Want a copy of the report we mentioned?
We will send you a copy of our quarterly magazine which provides hyper-local data for all of South Tampa that you can't find anywhere else.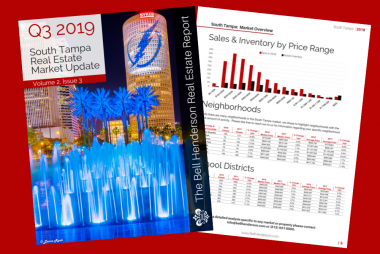 This magazine provides detailed market data on zip codes, neighborhoods and school districts along with other geographical and economical data like Waterfront, Luxury, & New Construction in South Tampa.
Find out how we are different: