Recapping the June 2019 South Tampa Market Numbers
Each month we bring you our South Tampa Real Estate Market Update by providing you with the key data points that drive the real estate market. Here are the numbers for June 2019.


What's happening right now across the 33606, 33609, 33611, and 33629 ZIP codes in terms of real estate? Let's break down the recent numbers.
As of June of 2019, 162 homes sold overall across the ZIP codes I mentioned above. This is a slight drop from the 171 homes that sold during that same month last year, but a slight increase from the 150 that sold in May of this year.
As for inventory, we currently have about 3.5 months' worth of supply. This means that if no new homes came onto the market, it would take 3.5 months for supply to run out. Theoretically, this indicates that we're in a seller's market, though the number of available homes will vary by price point—higher price ranges tend to have more listings for sale and lower price ranges tend to have fewer.
So how many listings, specifically, hit the market this past month? In June of 2019, we saw 218 new listings. Only 189 new properties were listed at this same time last year, and only 170 were listed this May. Of these homes, the average days on market was 50 days—pretty typical for this time of year.
And the fact that there are more homes to choose from isn't the only good news for buyers. Those looking to purchase property will also be happy to know that interest rates are still at historic lows—just 3.875% as of last month.


Of course, there's good news for sellers, as well. The median sales price has risen 21% since May of 2019, going up to $600,000 as of this June. This massive jump is partially due to the increased number of high-end properties that sold during that month, but it also reflects the fact that many homes that went under contract earlier this year have only just closed.
As a final note, it's also important to keep in mind that 150 homes went under contract this June. This clearly demonstrates that our local market is going strong.
We hope this update has been helpful. If you would like to learn more, please visit SouthTampaRealEstateReport.com to request a fully detailed report of the latest market trends.
If you have any other questions or would like more information, feel free to give us a call or send us an email. We look forward to hearing from you soon.
Want a copy of the report we mentioned?
We will send you a copy of our quarterly magazine which provides hyper-local data for all of South Tampa that you can't find anywhere else.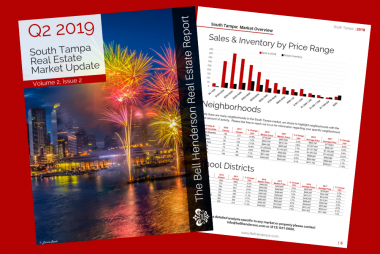 This magazine provides detailed market data on zip codes, neighborhoods and school districts along with other geographical and economical data like Waterfront, Luxury, & New Construction in South Tampa.
Find out how we are different: