December 2019 Market Update
Each month we bring you our South Tampa Real Estate Market Update by
providing you with
the key data points that drive the real estate market.
Here are the numbers for December 2019,
as well as 2019 as a whole.


Welcome to our latest Tampa real estate market update. Overall, 2019 was a phenomenal year. We are blessed to live here because people love Tampa, they want to move here, and we have so much happening. Today we're sharing a quick recap of both December 2019 as a stand-alone month in the market, and 2019 as an entire year:
Cited below for your convenience are timestamps that will direct you to various points in the video. Feel free to watch the full message or use these timestamps to browse specific topics at your leisure:
0:00 - Introduction to today's topic
0:41 - December 2019 home sales
1:28 - December 2019 sales price
2:28 - December 2019 inventory
3:02 - December 2019 new listings
3:11 - December 2019 days on market
3:51 - Total 2019 home sales
4:15 - 2019 median sales prices
4:23 - 2019 new listings
4:34 - 2019 days on market
4:48 - 2019 average sales price
5:55 - Wrapping up today's topic
Remember to request your copy of the South Tampa real estate market report at SouthTampaRealEstateReport.com. We'll have that in your mailbox within a couple of weeks. We also want to thank all of you for supporting us!
If you have any questions about real estate, please don't hesitate to reach out to us by phone or email. We would love to help you!
Want a copy of the report we mentioned?
We will send you a copy of our quarterly magazine which provides hyper-local data for all of South Tampa that you can't find anywhere else.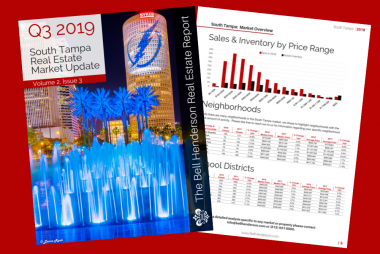 This magazine provides detailed market data on zip codes, neighborhoods and school districts along with other geographical and economical data like Waterfront, Luxury, & New Construction in South Tampa.
Find out how we are different: