Why We Strive to Bring You the Latest, Most Accurate Market Information


Today we'll get back to basics by answering a simple question: Why do we sit in front of the camera week in and week out to talk about all things real estate? And why do we do what we do?
Back between 2008 and 2009, we were working in close proximity to one another. Travis kept various market stats and data near the copy machine, and because of that, I made a habit of using that information in my own business, which led to us deciding to mastermind together. By 2010, we realized that our lives overlapped in more ways than just masterminding and a partnership was forged from there.
We still work as a team to this day, and we're committed to delivering you the most up-to-date information about the housing market so you can make well-informed decisions. As part of that commitment, we've put together the South Tampa Real Estate Report.
Why do we provide this report? Staying on top of neighborhoods stats and providing this report is our way of earning your and your family's trust as the local experts in our market. In establishing that trust, you'll feel comfortable working with us in your real estate endeavors.
In all likelihood, this investment will be the largest purchase you'll ever make. It makes sense, then, that you should have the most accurate, complete information on our market trends and stats.
We'd like to thank you for your referrals and entrusting us with helping you make this all-important life decision. If you have any questions or if we can serve your real estate needs in any way, please reach out to us. We'd be happy to help!
Want a copy of the report we mentioned?
We will send you a copy of our quarterly magazine which provides hyper-local data for all of South Tampa that you can't find anywhere else.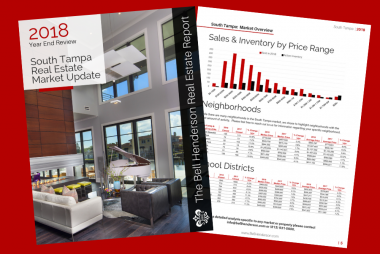 This magazine provides detailed market data on zip codes, neighborhoods and school districts along with other geographical and economical data like Waterfront, Luxury, & New Construction in South Tampa.
Find out how we are different: