Each month we bring you our South Tampa Real Estate Market Update by providing you with the key data points that drive the real estate market. Here are the numbers for March 2019.


What do the latest numbers say about our South Tampa market? To find out, we'll compare the statistics from last March on both a month-over-month and year-over-year basis.
There were 122 homes sales, which is a 35% increase compared to the 90 that sold in February, and it's right on track with the 119 that sold in March 2018.
The median sale price was $480,000, which is a 10% increase from February's mark of $434,750 but a slight decrease from March 2018's price of $500,000.
There were 176 homes that came on the market, which was a 12% increase compared to the 157 that came on the market in February but a 12% decrease compared to the 200 homes that were listed in March 2018.
The absorption rate was 4.73 months, which is a decrease compared to the 5.5-month mark of February. This means we're technically in a seller's market, but the higher price points are experiencing more of a buyer's market.
The average days on market was 54 days, which is a huge decrease compared to the 81-day average we saw in February. In March 2018, the average days on market was 74 days.
Mortgage rates for hovered around 4.25%, which is a huge drop from when we were near 5% during the fall of last year.
There were 151 homes that went under contract, which is an increase compared to the 134 we saw in February. In March 2018, 141 homes went under contract.
What can we deduce from these numbers? There are a couple points to remember.
For one thing, we had more inventory than usual hit the market in January and February, but the market caught up with this surplus in March. Now, sellers are getting realistic and reducing their prices. As a result, homes are going under contract faster.
In short, it's a great market out there. Buyers are moving quickly because interest rates are so great, which means it's also a great time to sell.
If you'd like an official copy of our quarterly market report, visit www.southtamparealestatereport.com, fill out the provided mailing form, and we'll be happy to send you a copy.
If you have any other questions about our South Tampa market or you're thinking of buying or selling a home, feel free to call or email us. We'd be happy to help you.
Want a copy of the report we mentioned?
We will send you a copy of our quarterly magazine which provides hyper-local data for all of South Tampa that you can't find anywhere else.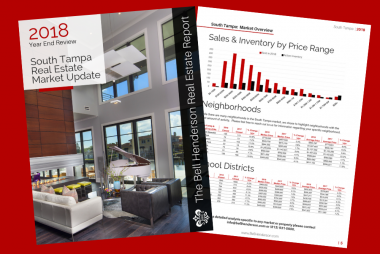 This magazine provides detailed market data on zip codes, neighborhoods and school districts along with other geographical and economical data like Waterfront, Luxury, & New Construction in South Tampa.
Find out how we are different: