February 2019 Market Update
Each month we bring you our South Tampa Real Estate Market Update by providing you with the key data points that drive the real estate market. Here are the numbers for February 2019.


This February, 89 homes were sold in our market, dwarfing January's total of 60. This time last year, there was actually a 10% decrease year over year.
Median sale price for February came in at $434,750—a 20% drop-off from January, which finished at $542,000. In our estimation, the dearth of home sales in January makes it hard for us to determine the direction the market is headed. The median sale price for this year underwent a 3% drop year over year.
Now, let's take a look at our months' supply of inventory. By the end of February, we had 5.36 months' worth of inventory, which was a 16% bump over January. Sellers are beginning to emerge in our market, and we'll see inventory reach its highest point over the next few months.
As far as new listings go, we had 157 in February versus 181 in January.
Homes spent an average of 81 days on market in February of this year compared to 58 days a month earlier. Any pent-up demand among buyers leads to homes spending fewer days on the market insofar as homes are correctly priced. This slight uptick in days on market could be a sign that sellers are hurting their own chances to sell in a timely fashion.
Lastly, where are we with mortgage rates? Conforming rates currently sit at 4.375% and are up marginally from January. The good news is that they've held strong at their historical lows, though we do expect them to reach 5% sometime in 2019.
If you're on the fence or would just like to get the conversation started, please don't hesitate to reach out to us. And, if you're interested in a full recap of South Tampa's 2018 real estate market, we'd be happy to give you a copy of our detailed, 16-page brochure. To Request Your Copy visit: www.SouthTampaRealEstateReport.com We look forward to hearing from you!
Want a copy of the report we mentioned?
We will send you a copy of our quarterly magazine which provides hyper-local data for all of South Tampa that you can't find anywhere else.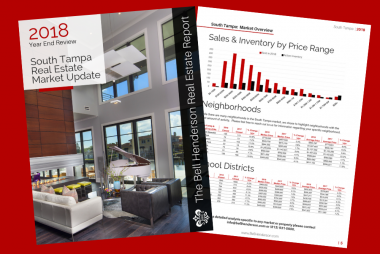 This magazine provides detailed market data on zip codes, neighborhoods and school districts along with other geographical and economical data like Waterfront, Luxury, & New Construction in South Tampa.
Find out how we are different: