Open House Guide: June 8 & 9
There is so much to look forward to this month with the Bell Henderson Team. We have been walking around neighborhoods and businesses alike to pass out our second South Tampa Market Report. We had a lot of great feedback from our first edition, that we took the time to incorporate it all into our second addition which covers the first quarter of 2019.
In addition, we have been preparing some new listings coming soon to the real estate market, and organizing open houses for the weekend. Hope to see you swing by!
COMING SOON: 4506 W Dale Ave
OPEN HOUSE: 5th Ave N Townhomes of St. Pete
Saturday, June 8 between 11-2pm
OPEN HOUSE: Belfair Park Townhomes
Sunday, June 9 between 12-2pm
PRICE REDUCED & OPEN HOUSE:
3024 S Emerson St. | Sunday, June 9 between 2-4pm
Want a copy of our South Tampa Real Estate Market Report?
We will send you a copy of our quarterly magazine which provides hyper-local data for all of South Tampa that you can't find anywhere else.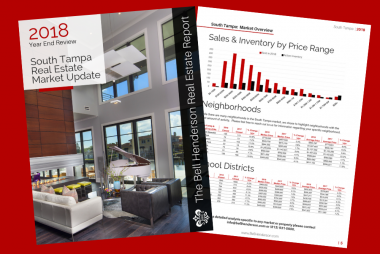 This magazine provides detailed market data on zip codes, neighborhoods and school districts along with other geographical and economical data like Waterfront, Luxury, & New Construction in South Tampa.
Find out how we are different: