New Listings & Open Houses!
Home sales have been on a strong uptick nationwide thanks to low interest rates, freer lending standards and a drop in the foreclosure rate. For a closer look on the South Tampa Real Estate market, check out our latest monthly market update on our YouTube channel and make sure to subscribe & ring the bell🛎while you are there for notifications on new videos on all things Real Estate and Tampa related.
Check out what new listings hit the market this week with the Bell Henderson Team and what homes we will be holding open this weekend!
NEW LISTINGS
NEW LISTING & an OPEN HOUSE
|
Saturday, Oct 5 between 11am - 2pm
NEW LISTING & an OPEN HOUSE
|
Sunday, Oct 6 between 1pm-4pm
Want a copy of our South Tampa Real Estate Market Report?
We will send you a copy of our quarterly magazine which provides hyper-local data for all of South Tampa that you can't find anywhere else.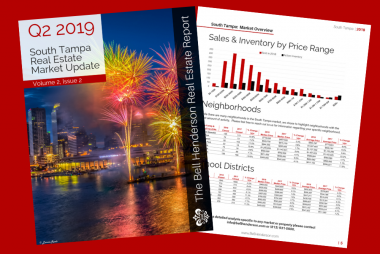 This magazine provides detailed market data on zip codes, neighborhoods and school districts along with other geographical and economical data like Waterfront, Luxury, & New Construction in South Tampa.
Find out how we are different: