November 2019 Market Update
Each month we bring you our South Tampa Real Estate Market Update by providing you with the key data points that drive the real estate market. Here are the numbers for October 2019.


Can you believe we're bringing you the November market statistics? There are only about two more weeks left in the year!
The market is currently great: The number of homes sold, 112, has held steady compared to 2018 through October and November this year. Prices are still increasing. $605,000 is the median sales price, up 2% from October, but up 21% from November 2018. The market is strong.
Inventory is down—we currently have 2.87 months' worth, meaning we have fewer homes that have come on the market. This means the market is moving quickly. In our four ZIP codes, we have 368 homes on the market, which is the lowest we have seen that number in a long time, almost a 10% decrease from October. Generally, people aren't rushing to list their house during Thanksgiving and Christmastime; however, last November there were about 18% more homes on the market than this November.


Interest rates are still excellent. Interest rates are at least 1% lower today compared to November 2018. The overall message is prices are still increasing at an extraordinary rate and fewer homes are hitting the market. If you want to sell your home, now is the time.
To request your copy of the South Tampa real estate market report, visit SouthTampaRealEstateReport.com and we'd be happy to provide you with one. If you have any questions about our market or concerning real estate, in general, please feel free to contact us by phone or email. We would love to help you!
Want a copy of the report we mentioned?
We will send you a copy of our quarterly magazine which provides hyper-local data for all of South Tampa that you can't find anywhere else.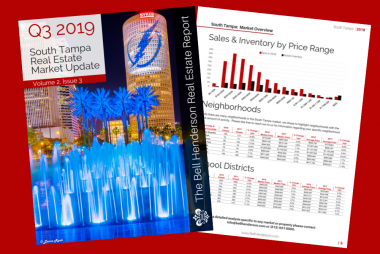 This magazine provides detailed market data on zip codes, neighborhoods and school districts along with other geographical and economical data like Waterfront, Luxury, & New Construction in South Tampa.
Find out how we are different: