5 Tips for Selling Your Home This Spring
If you're selling your home in our boisterous spring market, here are five tips you'll want to incorporate into your selling strategy:
Start preparing your home now. If your goal is to sell by May or June, getting your home listed by April is a must. By meeting with us, we can begin to strategize and we'll pinpoint certain items that we can improve upon to capitalize your home's value. On top of that, staging and marketing take time; the more time we have to work with, the better your home's marketing will be.
Hire the right Realtor. What does this encompass? Well, the right Realtor will have professional stagers, photographers, videographers, and drone pilots either on staff or quickly hirable. Their plan will also be comprised of custom listing pages, a social media presence with the right platform, professional brochures, and Realtors who possess a strong relationship with the local Realtor community.
Make a decision to sell as-is or make improvements. For the latter, there are some simple, low-cost repairs and improvements we can identify for you that will make your money go further in the long run. For those looking to sell as-is, that's OK too. No matter what approach you choose, you want an agent who will lay out the options for you.
Create a great first impression. To outshine the competition, our belief is that there are three impressions you need to make:



The first is your online presence. Increasingly, buyers are turning to the internet for online showings, so it'd behoove you to make an impression with your photos and your Realtor's online presentation of your home.




Secondly, turn heads with your curb appeal—the appearance of your yard and your home's exterior will say a lot to a buyer.




The last impression is made when a buyer walks into your home. Buyers may have criteria for selecting a home but, in the end, they'll fall back on emotion. How does your home make them feel?
Price your home right. By far and away, this is the most important tip of all. We've tracked it over the years: If your home sells in its first 14 days on market, it's all but a certainty that it will sell for 99% of the list price. The statistics show it only decreases from there. Simply put, the first two weeks on the market are the most crucial.
If you're thinking about selling your home, please reach out to us. We'd love to visit your home and chat with you about possible improvements you could make and our marketing strategy.
Want a copy of the report we mentioned?
We will send you a copy of our quarterly magazine which provides hyper-local data for all of South Tampa that you can't find anywhere else.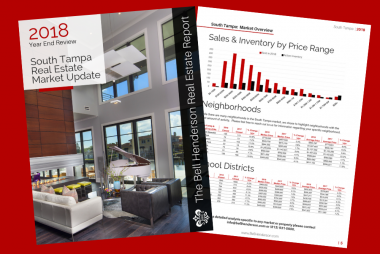 This magazine provides detailed market data on zip codes, neighborhoods and school districts along with other geographical and economical data like Waterfront, Luxury, & New Construction in South Tampa.
Find out how we are different: